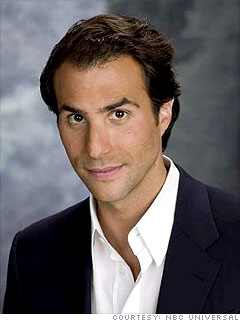 NBC Entertainment, IAC

Age: 39
Marital status: Single
Highest Education: Bachelor's degree
We got some raised eyebrows around the office when we said we were keeping Silverman on our list after he was ousted from a controversial stint as co-chairman of NBC Entertainment and Universal Media Studios.
But he brought us hits like Ugly Betty and The Office, and now he's teaming up with Barry Diller in a new IAC venture that will produce and distribute programs across media platforms. So we made him our caboose.
A "so stoked" Silverman is unfazed: "It's like the dream team is back together."

More galleries

Last updated March 26 2010: 10:26 AM ET
Note: To be eligible for Fortune's 40 under 40, candidates had to be 39 or younger on Nov. 1, 2009.
List compiled by Alyssa Abkowitz, Maha Atal, Katie Benner, Scott Cendrowski, Lawrence Delevigne, Telis Demos, Jessi Hempel, Suzanne Kapner, Mina Kimes, Beth Kowitt, Jessica Shambora, Richard Siklos, Kim Thai, Christopher Tkaczyk and Jia Lynn Yang. Research by Marilyn Adamo and Doris Burke.