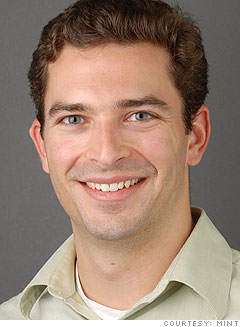 Founder and CEO, Mint.com

Age: 28
Marital status: Single
Highest Education: Master's degree
After disappointing experiences with Intuit's Quicken and Microsoft Money, computer geek Patzer (degrees in computer science, electrical engineering, and computer engineering; a master's in electrical engineering) decided to launch something better.
Mint.com debuted in 2007, offering personal-finance services free (Mint makes money from vendors whose products it recommends). Two years and 1.5 million users later, he sold it to Intuit for $170 million. Under the terms of the deal, Patzer will become general manager of Intuit's personal-finance group.

TMI: Claims to eat 25 pounds of fruit per week.

NEXT: Danny Rimer

Last updated March 26 2010: 10:26 AM ET
Note: To be eligible for Fortune's 40 under 40, candidates had to be 39 or younger on Nov. 1, 2009.
List compiled by Alyssa Abkowitz, Maha Atal, Katie Benner, Scott Cendrowski, Lawrence Delevigne, Telis Demos, Jessi Hempel, Suzanne Kapner, Mina Kimes, Beth Kowitt, Jessica Shambora, Richard Siklos, Kim Thai, Christopher Tkaczyk and Jia Lynn Yang. Research by Marilyn Adamo and Doris Burke.