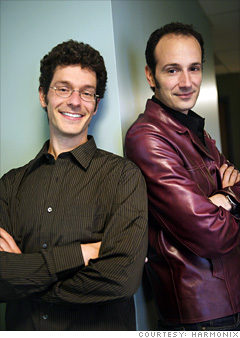 Co-Founders, Harmonix Music Systems

Ages: 39 and 38
The co-founders of Harmonix -- the developer of videogame hits
Guitar Hero
and
Rock Band
-- earned big paydays when they sold to Viacom's MTV Networks in 2006 for $175 million, plus a $150 million bonus.
The two brands (Guitar Hero is now owned by rival Activision) have sold more than $3 billion; Rock Band secured the first digital rights to Beatles songs (take that, Steve Jobs).

College buds: The two met at MIT studying music; Rigopulos is CEO; Egozy, also a clarinetist, is CTO.

NEXT: Max Levchin

Last updated March 26 2010: 10:26 AM ET
Note: To be eligible for Fortune's 40 under 40, candidates had to be 39 or younger on Nov. 1, 2009.
List compiled by Alyssa Abkowitz, Maha Atal, Katie Benner, Scott Cendrowski, Lawrence Delevigne, Telis Demos, Jessi Hempel, Suzanne Kapner, Mina Kimes, Beth Kowitt, Jessica Shambora, Richard Siklos, Kim Thai, Christopher Tkaczyk and Jia Lynn Yang. Research by Marilyn Adamo and Doris Burke.