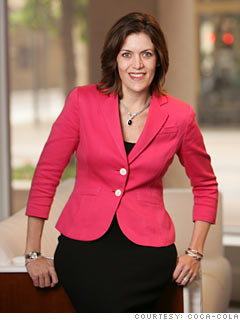 SVP, Integrated Marketing and Communications Capabilities, Coca-Cola

Age: 38
Marital status: Married
Highest Education: Bachelor's degree
In the year since Clark was tapped to oversee marketing at the megabrand, she's cut the number of creative agencies from 80 to 40 and pushed for greater collaboration among the heads of advertising, design, interactive, and sports and entertainment marketing.
Reporting to CMO Joe Tripodi, Clark is in charge of messaging for 500 brands in 200 countries.
It's a big step up from her previous role as head of marketing for AT&T, where she was praised for rebranding the stodgy telecom under the slogan "Your world. Delivered."

First job: She worked for McDonald's as a teenager.

NEXT: Casey Wasserman

Last updated March 26 2010: 10:26 AM ET
Note: To be eligible for Fortune's 40 under 40, candidates had to be 39 or younger on Nov. 1, 2009.
List compiled by Alyssa Abkowitz, Maha Atal, Katie Benner, Scott Cendrowski, Lawrence Delevigne, Telis Demos, Jessi Hempel, Suzanne Kapner, Mina Kimes, Beth Kowitt, Jessica Shambora, Richard Siklos, Kim Thai, Christopher Tkaczyk and Jia Lynn Yang. Research by Marilyn Adamo and Doris Burke.