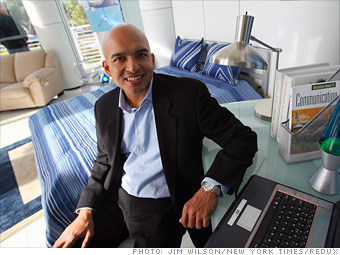 CEO, Walmart.com

Age: 38
Highest Education: Master's degree
El Paso-reared Vazquez started out as an industrial engineer but caught the dotcom bug when he moved to San Francisco for a consulting job. After a few gigs at Internet startups, he joined a new website with a familiar name -- Walmart.com, where he became CEO in 2007.
Today Walmart.com gets 40 million visitors a month, making it the most heavily trafficked brick-and-mortar retailer website, and is said to have revenue of $1.7 billion. Vazquez has spurred growth by offering ultralow shipping rates and opening the site to third-party vendors.

Reading: Gang Leader for a Day, a sociological study of Chicago's housing projects.

NEXT: Kevin Plank

Last updated March 26 2010: 10:26 AM ET
Note: To be eligible for Fortune's 40 under 40, candidates had to be 39 or younger on Nov. 1, 2009.
List compiled by Alyssa Abkowitz, Maha Atal, Katie Benner, Scott Cendrowski, Lawrence Delevigne, Telis Demos, Jessi Hempel, Suzanne Kapner, Mina Kimes, Beth Kowitt, Jessica Shambora, Richard Siklos, Kim Thai, Christopher Tkaczyk and Jia Lynn Yang. Research by Marilyn Adamo and Doris Burke.