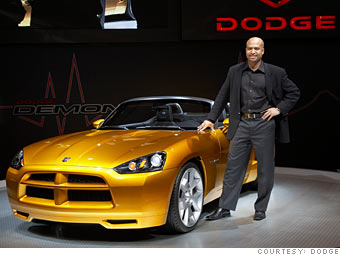 President and CEO, Dodge; SVP, Product Design, Chrysler
Age: 39
Marital status: Married
Highest Education: Master's degree
Born in New York City to Haitian immigrants, Gilles started drawing cars as a toddler. He joined Chrysler right out of college and rose to Chrysler's top design spot last year, overseeing Chrysler, Dodge, and Jeep vehicles.
Amid Detroit's woes, Gilles has produced bestsellers, most notably the Chrysler 300C (a.k.a. the baby Bentley).
Now comes an elevation to the business ranks: Last month he was named CEO of Chrysler's Dodge car brand.

Wheels: The racecar motor-sports enthusiast drives a custom Dodge Viper ACR that pumps out 600 horsepower on the track.

NEXT: Charles Best

Last updated March 26 2010: 10:26 AM ET
Note: To be eligible for Fortune's 40 under 40, candidates had to be 39 or younger on Nov. 1, 2009.
List compiled by Alyssa Abkowitz, Maha Atal, Katie Benner, Scott Cendrowski, Lawrence Delevigne, Telis Demos, Jessi Hempel, Suzanne Kapner, Mina Kimes, Beth Kowitt, Jessica Shambora, Richard Siklos, Kim Thai, Christopher Tkaczyk and Jia Lynn Yang. Research by Marilyn Adamo and Doris Burke.