In today's tight economy, who doesn't want to free up some cash? Trim the fat but not the fun from your budget - here's how.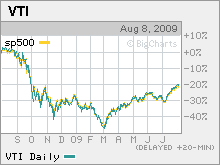 Make cheap bets on U.S. stocks by opting for funds with low expenses.
Now:
Davis New York Venture B
$13.83 a month
Better:
FMI Large Cap
$8.25 a month
Best
Vanguard Total Stock Market ETF
75¢ a month
NEXT: Drive down premiums
Last updated August 17 2009: 9:37 AM ET
Notes: Fees based on a $10,000 investment.