In today's tight economy, who doesn't want to free up some cash? Trim the fat but not the fun from your budget - here's how.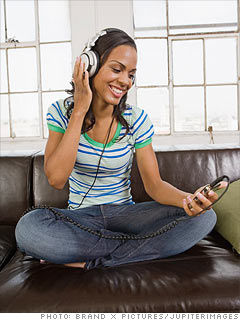 Monthly savings up to:
$30*
Roll your own CDs.
Download two full albums on iTunes for $10 apiece -- or look for $5 album specials on Amazon.com -- and burn them onto CD-R discs. It'll cost you as little as $12 a month.
Enjoy free samples.
Go to npr.org/music and expand your horizons with no-cost music podcasts and song downloads.
Get your own DJ.
At pandora.com, you can listen to an online radio station customized to your musical tastes. Listen free for 40 hours per month or pay $3 a month for unlimited music.
NEXT: Join the club
Last updated August 17 2009: 9:37 AM ET
Note: Assumes current monthly purchase of two compact discs for $15 apiece; 50-pack of CD-R discs for $33