In today's tight economy, who doesn't want to free up some cash? Trim the fat but not the fun from your budget - here's how.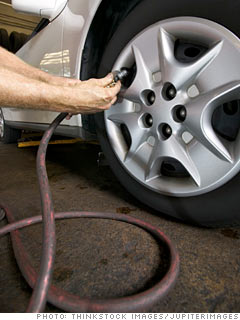 Monthly savings up to:
$25*
You don't have to buy a Prius, trade in your clunker or ride the bus to cut down on the money you spend for gas each month. Just make a few adjustments to your driving habits:
Drive sensibly.
Aggressive driving on the highway -- speeding, rapid acceleration and braking -- can lower your mileage by 33%.
Observe the speed limit.
Gas mileage decreases rapidly above 60 miles per hour. Reining in your speed will save you up to 23%.
Keep tires inflated properly.
Check your owner's manual to list your vehicle's proper tire pressure, buy a good dial-type pressure gauge ($8), and check your tires once a week. Keeping them properly inflated can improve your mileage by about 3%.
Empty the trunk.
Don't carry around unnecessary items, especially in small cars. An extra 100 pounds in your vehicle could reduce your miles-per-gallon by up to 2%.
NEXT: Buy ink, not cartridges
Last updated August 17 2009: 9:37 AM ET
Note: Fuel savings estimates from fueleconomy.org. Assumes 12,000 miles driven per year (8,000 on highway), gas priced at $2.64 per gallon and car averaging 25 mpg.